I'm glad Nina posted this....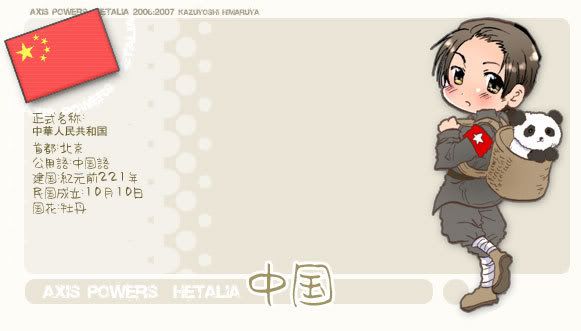 Nation's name: People's Republic of China
Capital: Beijing (Peking)
Language: Chinese
Nation's founding: 221 B.C.
Establishment of People's Republic: October 10th
National flower: Peony
Human name: 王耀 (Wong Yao)
Height: 169cm
Age: Roughly 4000 years old (he's pretty much at the level of a demi-god)
-A nation that possesses a long history, a large territory, and the roots of Asian culture.
-Ever since a long time ago, there has been a lot of disputes in the country that changed the nation, but the people are more or less the same.
-His workers are quick to calculate the costs and benefits, and are straightforward in expressing their emotions.
-Is also extremely superstitious and religious despite the times.
-Also, because his nation is well known for its variety of food, gets irritated and nags if there is food that has a pattern of tastes.
-The current image is China=pandas, but at one time they were handled mostly by Europe and America as an UMA (Unidentified Mysterious Animal).
--------------------
Obsessed with the adorable and production, China is an experienced nation with a very traditional-like feel to it. Yao loves the"mascot" Shinatty-chan, which is a kitty costume worn by either Russia or Prussia at respective times.

Lol.... China..... I <3 America and England better but this is acceptable. I do enjoy the cute!!